Celebrating Lionel Messi: Mesmerizing Wallpapers on MeaVana for Football Fans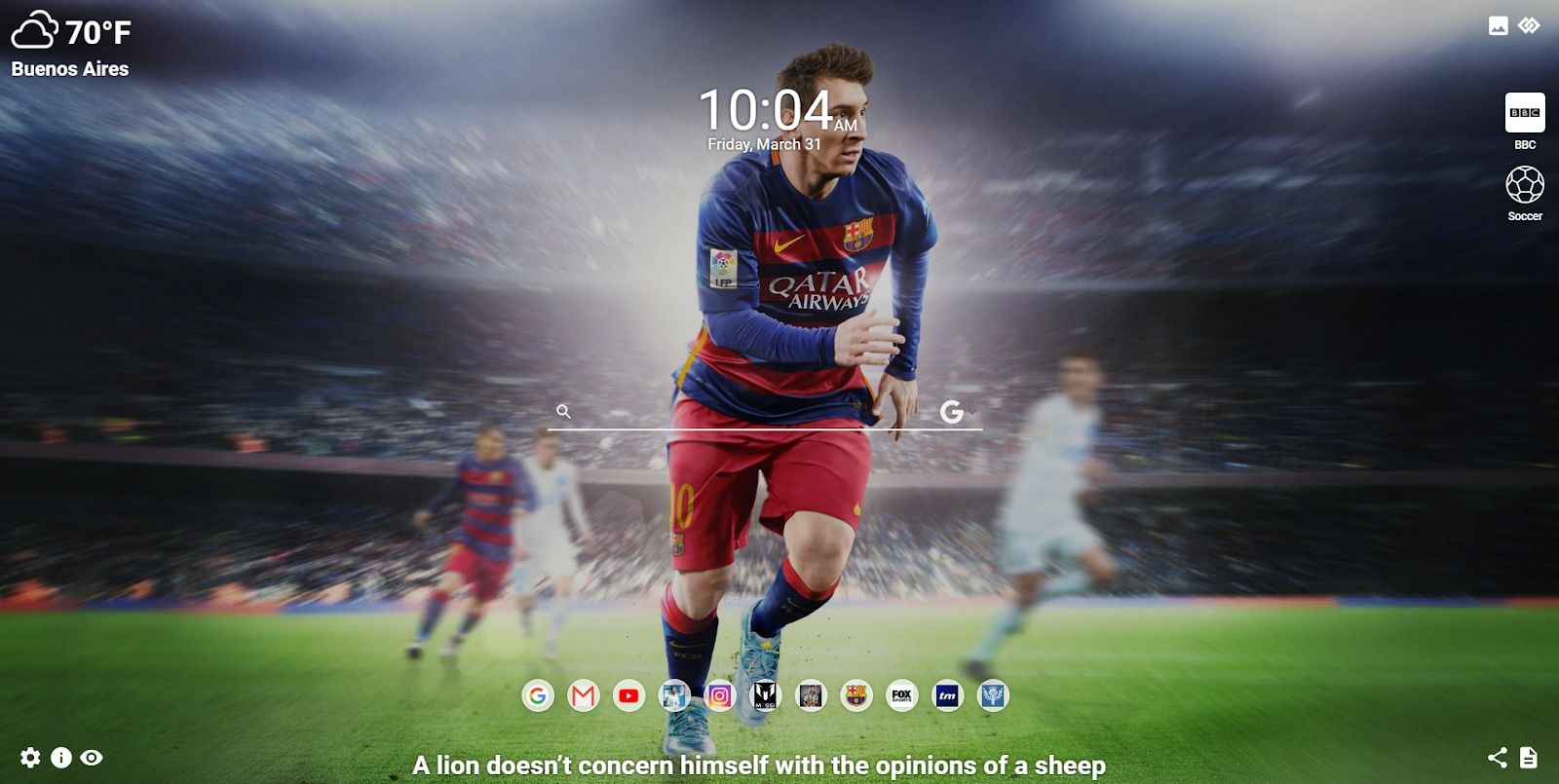 Introduction: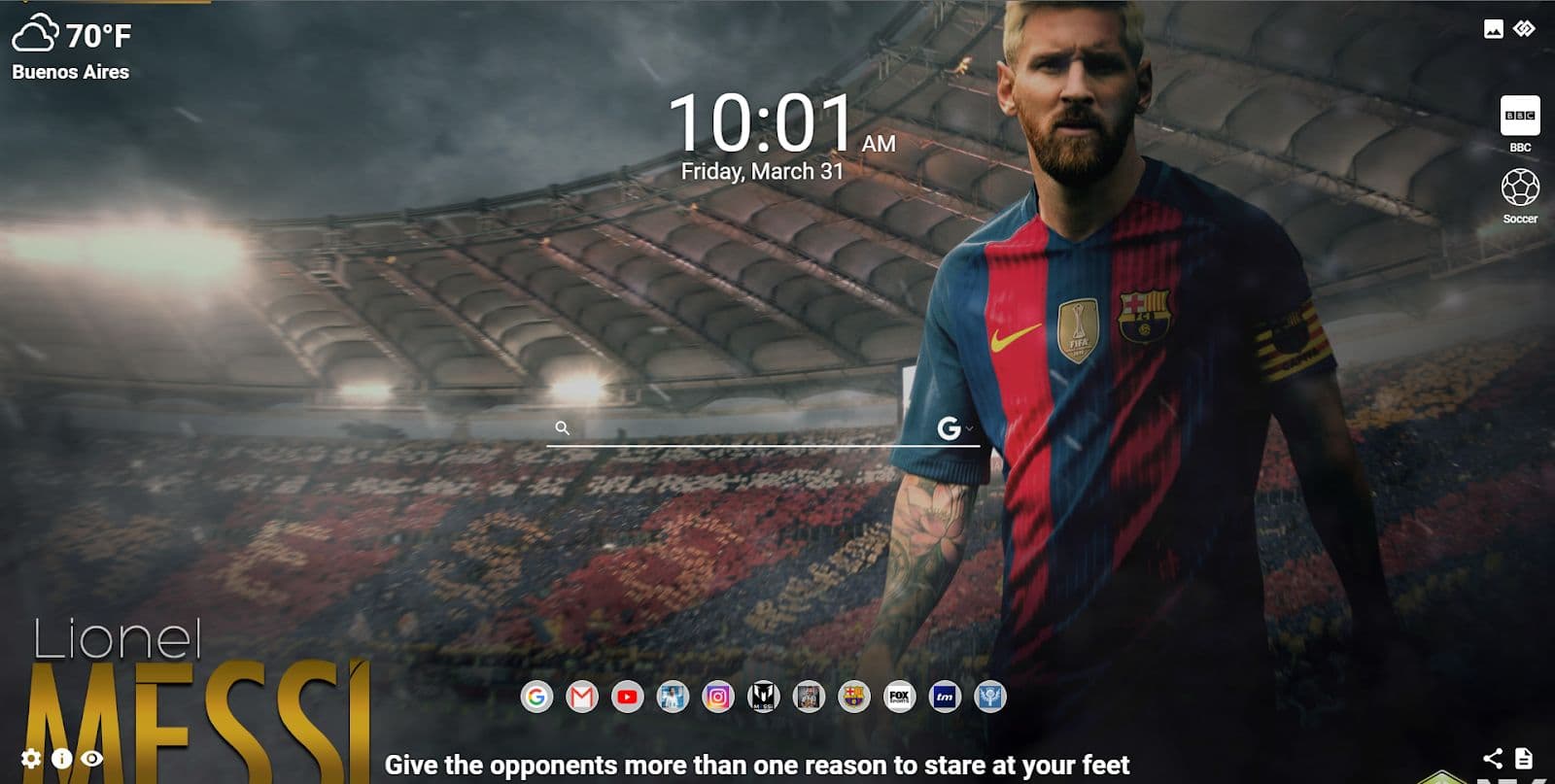 Lionel Messi, often hailed as one of the greatest football players of all time, has captivated the world with his extraordinary skills, mesmerizing dribbles, and incredible goal-scoring ability. As fans, we are always looking for ways to show our admiration for this football legend. One way to pay tribute to Messi's greatness is through captivating wallpapers that adorn our devices. In this blog, we explore a collection of stunning Messi wallpaper themes through the MeaVana Chrome Extension that will bring the magic of this football genius to our screens.
The Dynamic Messi:
This wallpaper captures the dynamism and agility that Messi brings to the game. With vibrant colors and intricate details, it showcases Messi in action, dribbling past defenders or launching a powerful shot towards the goal. Set this wallpaper as your background to feel the energy and excitement of Messi's gameplay every time you unlock your device.
The Iconic Celebrations:
Messi's goal celebrations have become iconic moments in football history. From his signature arms-outstretched pose to his joyful leaps of triumph, this wallpaper compilation showcases Messi's various celebrations that symbolize his passion and love for the game. Choose your favorite celebration and let it remind you of the sheer joy Messi brings to the pitch.
The Legend in Argentina Colors:
As the heart and soul of the Argentine national team, Messi's allegiance to his country runs deep. Display your support for both Messi and Argentina with a wallpaper that combines the colors of the national flag with Messi's image. This patriotic wallpaper serves as a reminder of Messi's extraordinary contributions to his homeland and his relentless pursuit of glory.
The Captain's Aura:
Lionel Messi was appointed as the captain of FC Barcelona and the Argentine national team, taking on the responsibility of leading his teammates to victory. This wallpaper captures the essence of Messi's leadership qualities, showcasing him with the captain's armband. It serves as a reminder of Messi's remarkable ability to inspire and motivate those around him.
The Records and Achievements:
Messi's career is filled with remarkable records and achievements that have left football fans in awe. Display a wallpaper that highlights some of Messi's most notable milestones, such as his record-breaking number of goals, numerous individual awards, and historic triumphs with his clubs and country. Let this wallpaper inspire you to strive for greatness in your own endeavors.
Conclusion:
Lionel Messi's impact on the world of football is undeniable, and his mesmerizing skills have earned him the adoration of millions of fans worldwide. By adorning our screens with these captivating wallpapers, we can keep Messi's magic alive, even off the pitch. Whether you choose a dynamic action shot, an iconic celebration, a patriotic tribute, a captain's aura, or a record-breaking montage, each wallpaper serves as a testament to Messi's greatness. Let these wallpapers remind us of the immense talent, dedication, and joy that Messi brings to the beautiful game. Enjoy them, for free to the wonderful MeaVana chrome extension.