Elevate Your Football Fandom with MeaVana Chrome Extension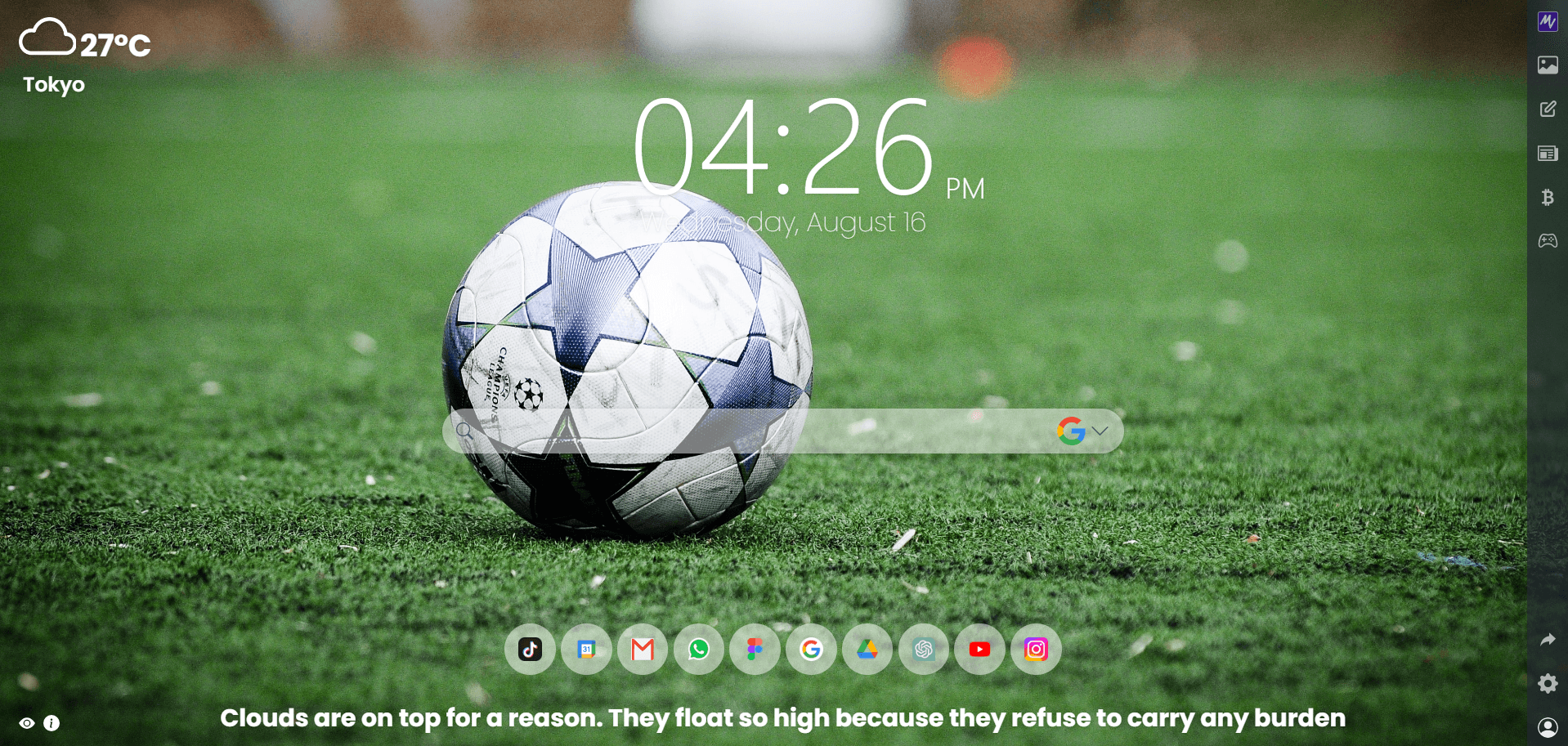 Football, more than just a sport, is a passion that unites millions across the globe. Whether you're an ardent supporter of a club or a dedicated follower of international tournaments, your love for the beautiful game deserves to be celebrated in every aspect of your digital life. This is where the MeaVana Chrome extension steps onto the field, transforming your browser's new tab page into a customized haven for football aficionados.
1. Personalized Backgrounds: Immersing Yourself in the Game
Imagine opening a new tab in your browser and being greeted by a stunning background image that captures the essence of football. With MeaVana, you have the power to choose the picture that resonates with your football spirit. From iconic stadiums to action-packed moments, every new tab page becomes a canvas of football magic. And the best part? The picture changes daily, giving you a fresh dose of football inspiration every time you open a new tab.
2. Daily Quotes: Motivation, Facts, and Football Insights
A football fan's journey is enriched with wisdom and insights. MeaVana delivers a daily quote that's more than just words; it's a window into the world of football facts, intriguing information, and motivational messages. Whether you're starting your day with a pep talk or learning fascinating facts about the sport you love, these quotes provide a daily dose of football inspiration that fuels your passion.
3. Unearth Unlimited Bookmarks: Your Football Universe
Every football fan has a treasure trove of websites, blogs, and resources they rely on to stay updated with the latest news and analysis. MeaVana offers the luxury of unlimited bookmarks, allowing you to curate a collection of football-related sites that are just a click away. Organize your favorite club's official site, news portals, fan forums, and more, all within easy reach, so you can dive into the world of football with convenience.
4. Pinned News Channels: Stay Ahead of the Game
Football is a fast-paced sport, and staying informed is key. MeaVana takes your football fandom a step further by offering news channels that you can pin to the main screen. These pinned channels keep you up-to-date with the latest scores, transfer news, match previews, and expert analyses. With real-time updates and a customizable news feed, you'll never miss a beat in the football universe.
Embrace the MeaVana Experience: Your Ultimate Football Companion
From the roar of the crowd to the thrill of a last-minute goal, football's magic is etched in our hearts. The MeaVana Chrome extension pays homage to this magic by curating an experience tailored to football fans. Imagine opening your browser and being transported to a world where every new tab embodies your love for the sport. Dive into the MeaVana experience, where backgrounds, quotes, bookmarks, and news channels converge to create a haven for football enthusiasts. Elevate your football fandom today and let your browser echo the cheers of the stadium!