Embracing Greatness: Unleash the Ronaldo Magic with MeaVana Chrome Extension's New Topic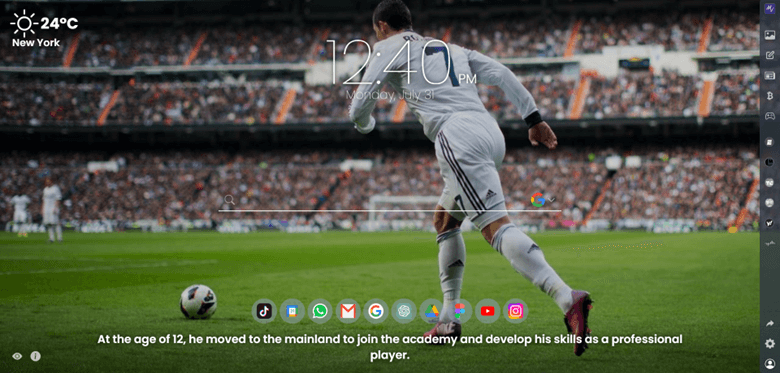 Introduction
Step into the world of football excellence and witness the mesmerizing aura of Cristiano Ronaldo with MeaVana Chrome extension's latest topic dedicated to the living legend. Prepare to be enthralled as we unveil a virtual gallery of captivating images and inspiring quotes that celebrate the indomitable spirit and extraordinary talent of Cristiano Ronaldo. Whether you are a die-hard football fan or simply admire greatness in action, this blog invites you on a thrilling journey to explore the legacy of one of the sport's true icons.
Capturing the Ronaldo Phenomenon: A Pictorial Tribute
As you open your browser, MeaVana's Cristiano Ronaldo topic welcomes you with an enchanting array of images, each capturing the essence of the football maestro's illustrious career. From his electrifying goals to jaw-dropping skills, the pictures depict Ronaldo's journey from a young talent to a global footballing phenomenon. Feel the adrenaline rush as you witness his iconic celebrations and the passion that defines him on and off the pitch.
Inspirational Quotes: A Testament to Greatness
Alongside the visual spectacle, MeaVana has curated a collection of quotes that embody the essence of Cristiano Ronaldo's greatness. The quotes, from footballing legends, teammates, and Ronaldo himself, reflect the dedication, discipline, and relentless pursuit of excellence that define his remarkable journey. Be inspired by the words that motivate him to push beyond boundaries and inspire millions of fans worldwide.
The Journey of a Footballing Icon
Cristiano Ronaldo's journey is a testament to perseverance and relentless determination. From his early days in Portugal to his stellar stints at Manchester United, Real Madrid, Juventus and of course Al-Nassr. Ronaldo's career has been an odyssey of achievements and milestones. MeaVana's topic offers glimpses of his unforgettable moments, from lifting trophies to breaking records, cementing his status as one of the greatest players in the history of the beautiful game.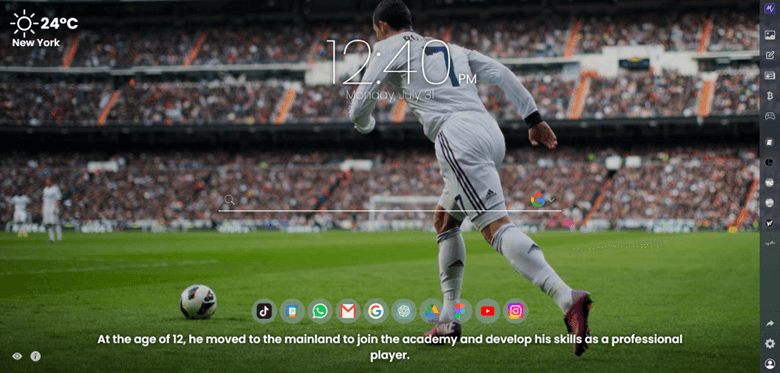 Embracing Legacy and Philanthropy
Beyond the football pitch, MeaVana's Cristiano Ronaldo topic also shines a light on the philanthropic endeavors of this iconic player. Ronaldo's compassion and generosity have impacted countless lives, reflecting his commitment to giving back to the community. Through various charitable initiatives, Ronaldo has become a role model both on and off the field, inspiring others to make a positive difference in the world.
Stay Updated with Pinned News
MeaVana understands the importance of staying informed about the latest updates and news related to Cristiano Ronaldo. The topic features pinned news channels that keep you connected to the latest happenings in Ronaldo's career, endorsements, and personal life. Stay up-to-date with the latest transfers, awards, and achievements of this remarkable athlete through MeaVana's user-friendly interface.
The Ronaldo Magic Unveiled
With MeaVana's new topic, you can dive into the enigmatic world of Cristiano Ronaldo and witness the magic that has mesmerized football fans for over a decade. The captivating images, inspiring quotes, and pinned news channels create an immersive experience that allows you to celebrate the legacy and impact of this legendary player.
Whether you're a football enthusiast, a Ronaldo fan, or simply appreciate excellence, MeaVana's Cristiano Ronaldo topic is a gateway to the spirit of football greatness. Download MeaVana now and embrace the aura of Cristiano Ronaldo, the living legend who continues to inspire generations with his unparalleled talent and unwavering spirit.