MeaVana: Your Ultimate Customizable Chrome Extension and App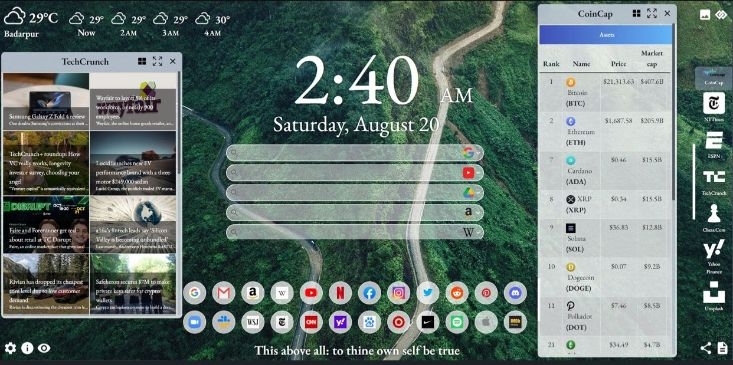 In the fast-paced digital world we live in, personalization has become more than just a trend—it's a necessity. The tools we use should adapt to our preferences and needs, offering an experience that's uniquely ours. Enter MeaVana, the Chrome Extension and App that's redefining customization. With its array of features that can be tailored to your liking, MeaVana stands out as the most versatile and user-centric extension available.
Unleash Your Creativity with MeaVana:
Imagine having a Chrome extension that's not only functional but also a reflection of your personality and style. MeaVana brings this vision to life by offering a plethora of customizable features that let you transform your browser into a personalized oasis.
1. Weather, Date, and Time:
Starting your day with relevant information is crucial, and MeaVana understands that. With its customizable weather, date, and time display, you can decide exactly how you want this information to be presented. Whether you prefer a minimalist look or a detailed view, MeaVana has you covered.
2. Search Bar:
The search bar is your gateway to the internet, and MeaVana enhances this experience. You can choose from different search engines, customize the search bar's appearance, and even add quick-access shortcuts to your favorite websites for unparalleled convenience.
3. Bookmarks and Pinned Apps:
Your bookmarks are an extension of your online identity, and MeaVana lets you organize them to perfection. Whether you want them neatly categorized, visually represented with icons, or displayed in a unique layout, the choice is yours.
4. Integrations:
MeaVana takes integration to a new level. Seamlessly connect your preferred task management tools, calendar apps, and other productivity apps right within your browser. Say goodbye to switching between tabs; MeaVana brings everything you need to one place.
5. Background Wallpaper:
Personalization goes beyond functionality—it's about aesthetics too. MeaVana offers a stunning range of background wallpapers, or you can even upload your own images to set the mood that resonates with you.
6. Inspirational Quotations:
Inject positivity and inspiration into your browsing experience with MeaVana's customizable quotations. You can choose from a variety of themes and even add your favorite quotes to appear randomly, reminding you of what matters most.
7. Layout and Theme:
MeaVana's customization extends to layout and theme as well. Tailor the overall look of your browser to match your style, whether you're a fan of sleek minimalism or vibrant designs.
8. Font and Typography:
Even the smallest details matter in personalization. With MeaVana, you can select your preferred fonts and typography settings for a reading experience that's easy on the eyes and truly yours.
Why MeaVana Stands Out:
Endless Flexibility: MeaVana's customization options are virtually limitless. No matter how specific your preferences are, there's a setting that caters to you.
Intuitive Interface: Customization shouldn't be complicated. MeaVana boasts an intuitive user interface that makes tweaking settings a breeze, even for those who aren't tech-savvy.
Seamless Integration: The app's ability to integrate with various productivity tools and apps means you can centralize your digital activities and streamline your workflow.
Regular Updates: The MeaVana team is dedicated to improving the extension continually. Expect regular updates that bring new features and enhancements to keep your experience fresh.
Conclusion: Your Browsing, Your Way
MeaVana empowers users to take control of their browsing experience like never before. From the moment you open your browser, you're greeted by an environment that reflects your personality, preferences, and priorities. With its unmatched range of customizable features, MeaVana stands as the most versatile and user-centric Chrome extension and app out there. Embrace the power of personalization, and let MeaVana transform your browsing into an inspiring, efficient, and uniquely yours journey.