Mexico Uncovered: The Ultimate Guide to Experiencing Mexico's Richness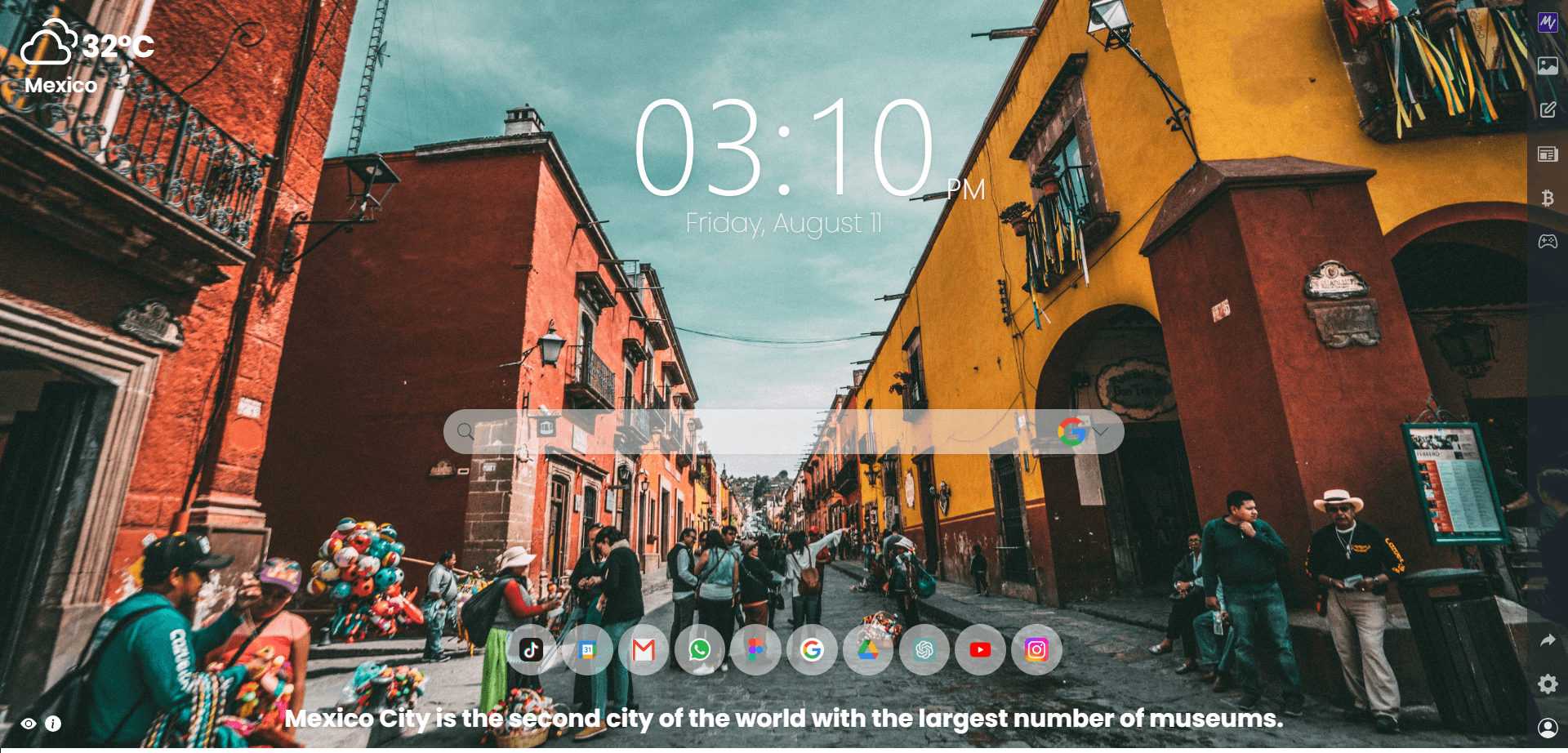 Diverse landscapes, vibrant cities, and a rich cultural heritage make Mexico a captivating destination for travelers. Whether you're in Mexico City, Cancun, or Santa Fe, New Mexico, there are endless things to do and places to explore. With MeaVana's Chrome extension, you can enrich your journey with exciting daily facts and beautiful wallpapers that bring Mexico to your new tab page.
Mexico City: The Cultural and Historical Hub
Visit the Historic Center: Home to numerous landmarks, including the Zocalo plaza, the Metropolitan Cathedral, and the National Palace, exploring the Historic Center is among the best things to do in Mexico City.
Explore Chapultepec Castle: Overlooking Mexico City from Chapultepec Hill, this castle is an important historical site and offers breathtaking views of the city.
Tour Frida Kahlo's Blue House: A must-visit for art lovers, this museum was the home and studio of renowned Mexican artist Frida Kahlo.
Mexico City: The Cultural and Historical Hub
Stroll around the Santa Fe Plaza: With numerous shops, galleries, and restaurants, it's one of the top Santa Fe, New Mexico things to do.
Visit the Georgia O'Keeffe Museum: Showcasing the works of the "Mother of American modernism" this museum is a must-see.
Explore the Bandelier National Monument: Offering a glimpse into the lives of the ancestral Pueblo people, this site is a fascinating detour.
Cancun: The Caribbean Paradise
Experience the Beaches: White sands, turquoise waters, and plenty of sunshine - Cancun's beaches are its star attraction.
Dive in the Underwater Museum: The Underwater Museum of Art (MUSA) offers a unique snorkeling and diving experience.
Visit the Tulum Ruins: While not exactly in Cancun, a day trip to the Tulum Ruins, perched on a cliff overlooking the sea, is highly recommended.
Albuquerque, New Mexico: The Heart of New Mexico
Attend the Albuquerque International Balloon Fiesta: If your visit lines up with this event, don't miss it. It's a spectacle like no other.
Visit Old Town: Dating back to the city's founding in 1706, Old Town Albuquerque is filled with historic adobe buildings and beautiful patios.
Explore Petroglyph National Monument: It's one of the most engaging things to do in New Mexico, Albuquerque, offering hiking trails dotted with ancient rock art.
Whether you're exploring the colorful streets of Mexico City, unwinding on the sandy beaches of Cancun, or soaking in the rich history and art of Santa Fe, New Mexico, there are unforgettable experiences waiting around every corner in Mexico. Let MeaVana's Chrome extension add more colors to your Mexican journey, with daily facts and wallpapers that keep the spirit of Mexico alive in your browser every day.