Michael Schumacher: The Unrivalled Journey of a Formula 1 Icon
In the realm of Formula 1, where speed and precision intertwine, few names shine as brightly as Michael Schumacher's. From his humble beginnings to his meteoric rise in the racing world, Schumacher's legacy is etched into the annals of motorsport history. This blog takes you on an exhilarating ride through the life, career, triumphs, challenges, and recent updates on this legendary racing driver.
Early Life and F1 Debut
Born on January 3, 1969, in Hürth-Hermülheim, Germany, Michael Schumacher's passion for speed was evident from an early age. He began karting at the tender age of four and quickly progressed through the ranks, displaying a remarkable combination of talent, determination, and discipline. This unwavering commitment led him to the Formula 1 scene.
Schumacher made his Formula 1 debut with the Jordan-Ford team in 1991, replacing Bertrand Gachot for the Belgian Grand Prix. His remarkable performance caught the attention of Benetton, leading to a transition that would shape his illustrious career.
F1 Career and Championships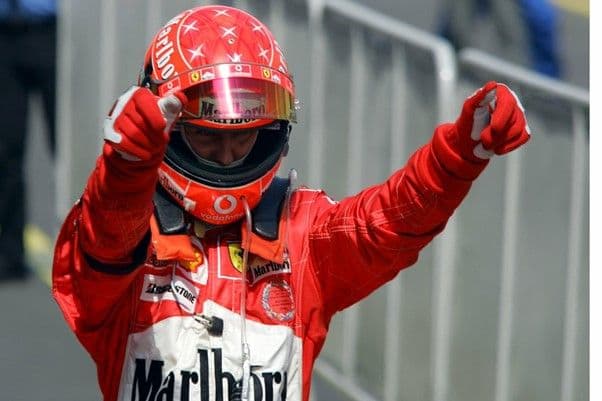 Throughout his storied Formula 1 career, Schumacher's name became synonymous with excellence. Representing Benetton, Ferrari, and Mercedes, he clinched an astonishing seven World Drivers' Championships, a feat that remained unparalleled until Lewis Hamilton equaled it years later.
Schumacher's tenure with Ferrari yielded five consecutive championships from 2000 to 2004, propelling both him and the Scuderia to unprecedented heights. His strategic brilliance, impeccable driving skills, and unparalleled work ethic earned him a legion of fans and cemented his status as a true racing icon.
Controversies and Triumphs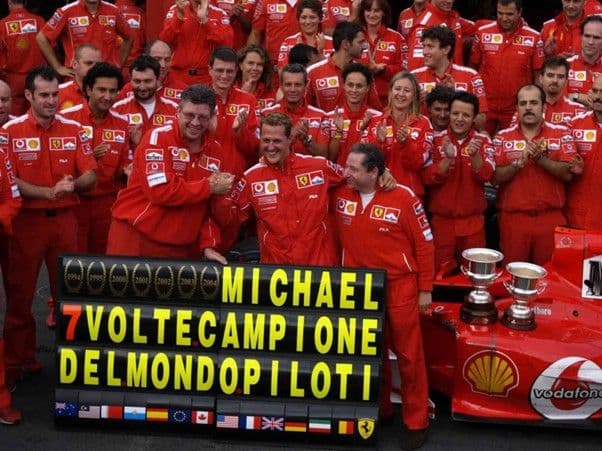 No career as illustrious as Schumacher's is without its share of controversies. One such incident occurred during the 1994 season when he collided with Damon Hill in the Australian Grand Prix, securing his first championship but raising eyebrows about sportsmanship. The 2002 Austrian Grand Prix team orders controversy also left a blemish on his otherwise stellar record.
Despite these controversies, Schumacher's driving prowess and commitment to the sport remained undeniable. His ability to extract exceptional performance from his machinery, especially in challenging conditions, showcased his extraordinary skills.
Life in the Paddock and Family
Beyond the racetrack, Schumacher's presence in the paddock was both respected and cherished. His amiable demeanour, dedication to teamwork, and leadership qualities earned him the admiration of fellow drivers and team members alike. He was not just a driver; he was a guiding force within the racing community.
Family played an integral role in Schumacher's life. His wife Corinna and two children, Gina-Maria and Mick, formed a strong support system that stood by him through thick and thin. His son Mick Schumacher has also ventured into Formula 1, continuing the family's racing legacy.
The Tragic Accident and Recent Updates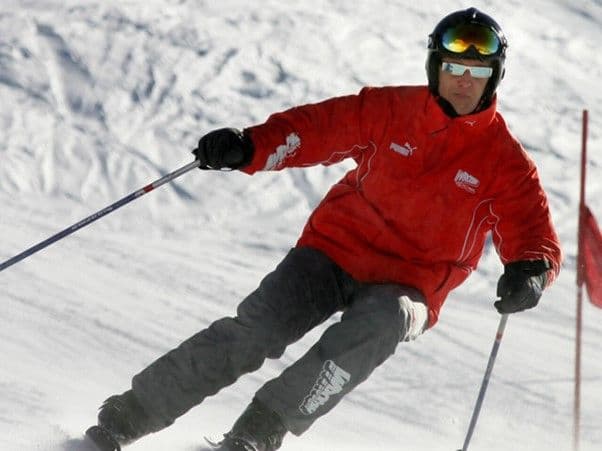 In December 2013, tragedy struck when Schumacher suffered a severe head injury while skiing in the French Alps. This tragic accident left him in a medically induced coma for several months. Since then, updates on his health have been limited, leaving the racing world and fans around the globe concerned and hoping for positive news.
As of the most recent updates, Michael Schumacher's health condition remains private, with only occasional statements from the family. The respect and love for the racing legend continue to pour in from all corners of the world, a testament to the indelible impact he made on Formula 1 and motorsport as a whole.
In Conclusion
Michael Schumacher's journey from karting to Formula 1 stardom is a saga of passion, perseverance, triumphs, and challenges. His dominance on the track, combined with his humility and family values off it, has left an enduring mark on the racing world. As the racing community eagerly awaits positive news on his health, one thing remains certain: Michael Schumacher's legacy will forever remain in the hearts of motorsport enthusiasts worldwide.