Rome Uncovered: Immerse Yourself in Italy's Eternal City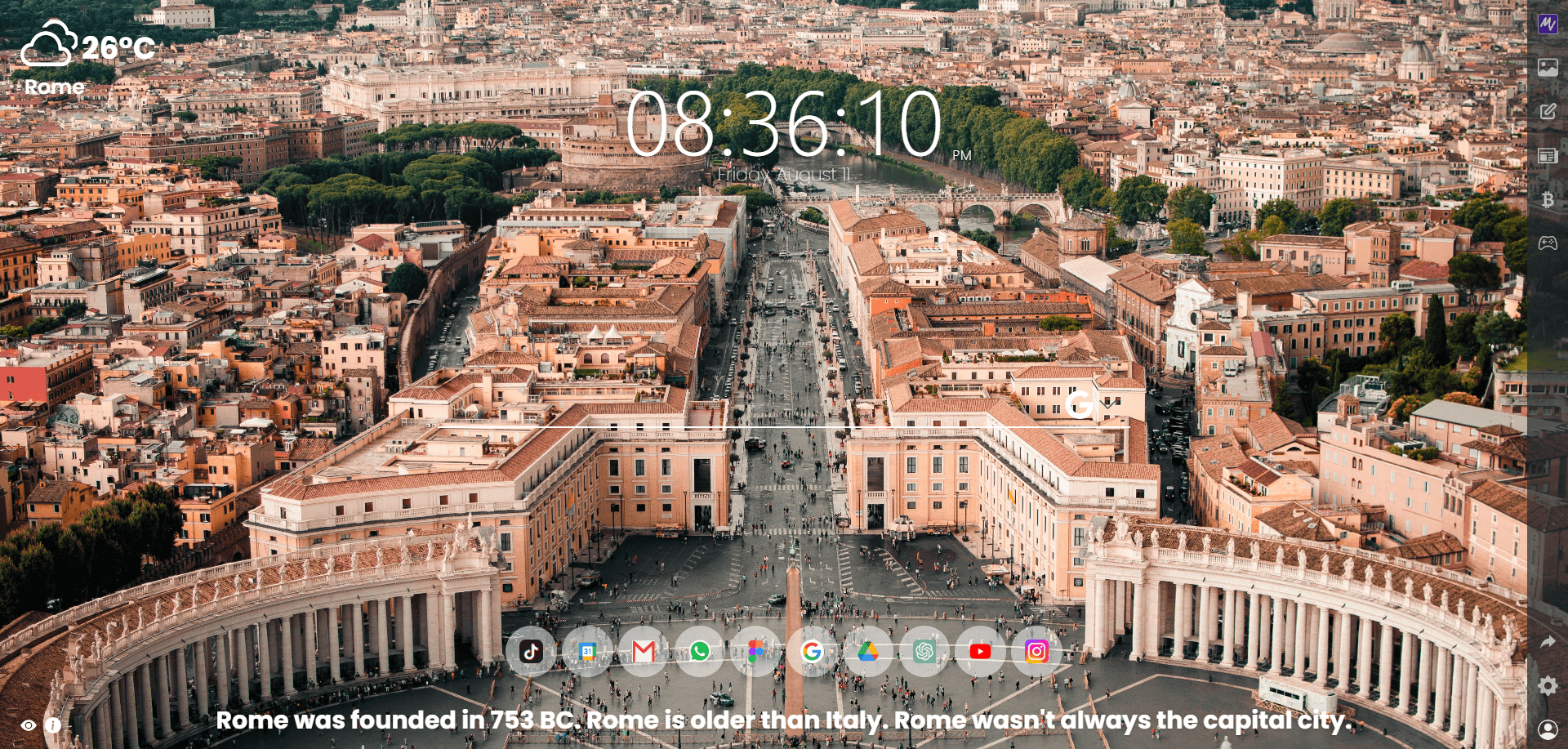 Welcome to Rome, the city that inspired poets, artists, and dreamers for centuries. Let MeaVana take you on a daily journey to this eternal city, turning your new tab page into a portal to Rome's iconic monuments, charming neighborhoods, and rich history.
Rediscover Rome's Endless Treasures
From the timeless grandeur of the Colosseum to the ornate detail of the Trevi Fountain, Rome boasts a plethora of historical gems. Whether you're a history buff, a food lover, or an adventurer, the best things to do in Rome cater to every taste and interest.
The Colosseum: A Peek into Rome's Glorious Past
The Colosseum, an iconic symbol of Imperial Rome, is a must-visit. As you explore its majestic arches and timeless ruins, you'll be swept back to a time of gladiators and grandeur.
Trevi Fountain: Make a Wish
Don't miss the chance to toss a coin into the Trevi Fountain, a tradition that promises a return to the Eternal City. This Baroque masterpiece is one of Rome's most famous attractions, and a visit here is among the top things to do in Rome.
Explore the Charming Trastevere
Immerse yourself in the captivating charm of Trastevere, a neighborhood known for its narrow cobbled streets, vibrant nightlife, and some of the best food in Rome.
Venture into Rome with MeaVana
Every new tab opened with MeaVana offers a daily taste of Rome's allure. From the awe-inspiring Vatican City to the bustling Campo de' Fiori, MeaVana's daily facts and striking images let you explore the highlights and hidden corners of Rome.
Embark on your virtual Roman holiday with MeaVana today. Experience the magic of the Eternal City, learn intriguing facts, and delight in stunning visuals that capture the spirit of Rome.