The Golden Gate to Adventure: Exploring San Francisco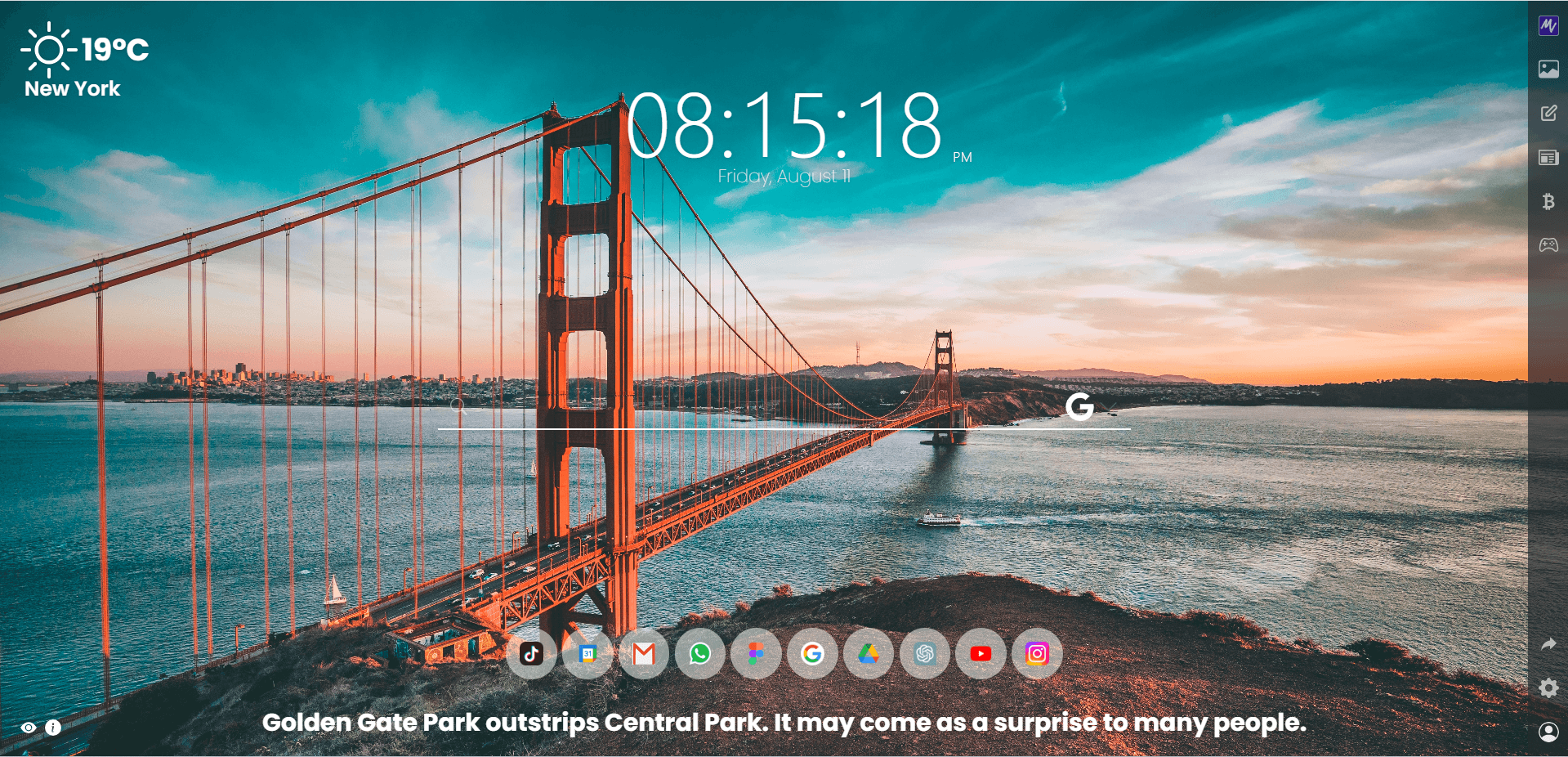 Immerse yourself in the iconic beauty of San Francisco. From the Golden Gate Bridge to the lively Pier 39, make the most of your trip with our detailed guide, all while enjoying daily facts and vibrant wallpapers about San Francisco on the MeaVana Chrome extension.
Set on its seven famous hills, San Francisco is a city where history, culture, and natural beauty coalesce into a vibrant, multi-faceted experience. With the MeaVana Chrome extension, you can learn more about this fantastic city every day with exciting facts and eye-catching wallpapers.
Visit Iconic Landmarks
Explore the Golden Gate Bridge: An iconic symbol of San Francisco, the Golden Gate Bridge offers stunning views of the city and the bay. It's undoubtedly at the top of the list of things to do in San Francisco.
Discover Alcatraz Island: Tour the infamous prison and immerse yourself in its rich history.
Stroll Through Golden Gate Park: Housing several museums, gardens, and a vast array of flora and fauna, it's one of the most fun things to do in San Francisco with kids.
Experience Diverse Cultures
Chinatown: Visit the oldest and one of the most established Chinatowns in the U.S. Don't miss out on the fortune cookie factory!
Mission District: Explore the heart of San Francisco's Latino community, known for its vibrant street art and unique eateries.
Indulge in Culinary Delights
Visit the Ferry Building Marketplace: A haven for food lovers, where you can sample everything from artisanal cheese to freshly shucked oysters.
Dine at Fisherman's Wharf: Famous for its seafood, particularly the mouthwatering clam chowder served in a sourdough bread bowl.
Engage in Unique Experiences
Ride a Cable Car: These historic vehicles offer a fun and unique way to explore the city.
Visit The Exploratorium: An interactive science museum, great for adults and kids alike.
Explore the Castro: Known as the hub of the LGBTQ community, the district is vibrant and full of history.
With its myriad of experiences, San Francisco is a city that caters to all tastes. Whether you're exploring the iconic landmarks, enjoying the diverse cultural experiences, indulging in the local cuisine, or engaging in unique city experiences, San Francisco promises a memorable adventure. Remember, with MeaVana's Chrome extension, you can discover something new about San Francisco every day. From the comfort of your browser, enrich your understanding and keep the charm of this city alive every day.