Unravelling the Phenomenon: The Extraordinary Journey of Conor McGregor in the UFC
Introduction
Conor McGregor's name is synonymous with explosive fights, charismatic swagger, and an unparalleled impact on the world of mixed martial arts (MMA). From his early beginnings to his meteoric rise in the Ultimate Fighting Championship (UFC), McGregor's journey is one of determination, skill, and a personality that captivates fans worldwide.
Early Life and Personal Journey
Hailing from Dublin, Ireland, Conor Anthony McGregor was born on July 14, 1988. His journey into the world of combat sports began at an early age when he took up boxing and, later, Brazilian jiu-jitsu. These disciplines formed the foundation for his distinctive fighting style that blends striking finesse with grappling prowess.
MMA and UFC Career
Conor McGregor's entry into MMA was marked by an impressive stint in Cage Warriors, where he held both the featherweight and lightweight titles. His performances caught the attention of UFC scouts, leading to his UFC debut in April 2013. McGregor's ability to predict his wins with uncanny accuracy earned him the moniker "Mystic Mac."
In the UFC, McGregor's charisma and fighting skills propelled him to unprecedented heights. His featherweight title victory against José Aldo in just 13 seconds at UFC 194 remains one of the most iconic knockouts in MMA history. McGregor's pursuit of greatness didn't stop there – he also clinched the lightweight title at UFC 205, becoming the first fighter in UFC history to hold titles in two weight classes simultaneously.
Famous Fights and Achievements
The McGregor mystique reached its zenith with the much-anticipated boxing match against Floyd Mayweather in 2017. Despite the loss, McGregor's crossover bout showcased his ability to transcend MMA and captivate a global audience.
His return to the UFC saw a welterweight clash with Donald "Cowboy" Cerrone, where McGregor secured victory in just 40 seconds. McGregor's undeniable star power was evident as his fights consistently shattered pay-per-view records.
Nicknames and Media Presence
Conor McGregor's nicknames read like a tribute to his larger-than-life personality: "The Notorious" and "Mystic Mac." These monikers encapsulate his confidence, bravado, and ability to back up his words with exceptional performances inside the octagon.
McGregor's presence extends beyond the cage; his candid interviews, bold predictions, and electrifying press conferences have become legendary. His knack for psychological warfare adds an extra layer of intrigue to his fights, drawing fans into the spectacle.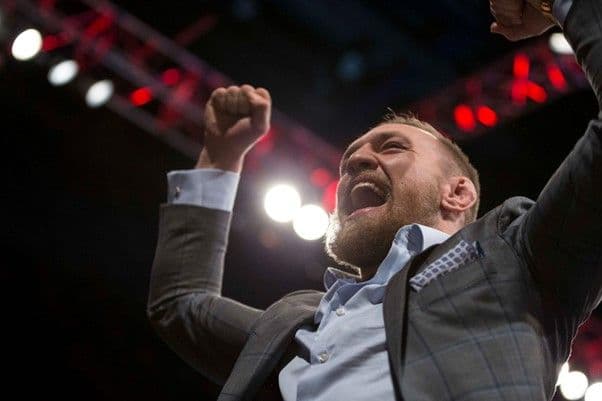 Legacy and Beyond
Conor McGregor's impact on the world of MMA is undeniable. He elevated the sport's popularity to unprecedented levels and paved the way for fighters to command mainstream attention. McGregor's achievements extend beyond the octagon as he ventured into entrepreneurship, launching his whiskey brand, Proper No. Twelve.
In conclusion, Conor McGregor's journey from a Dublin youngster with a dream to a global MMA sensation is a testament to his unwavering dedication and unparalleled charisma. His legacy will forever be etched in the annals of UFC history, serving as an inspiration to aspiring fighters and a reminder of the power of self-belief.