Unveiling Italy: From Florence's Art to Naples' Streets - A Comprehensive Guide to Italy's Treasures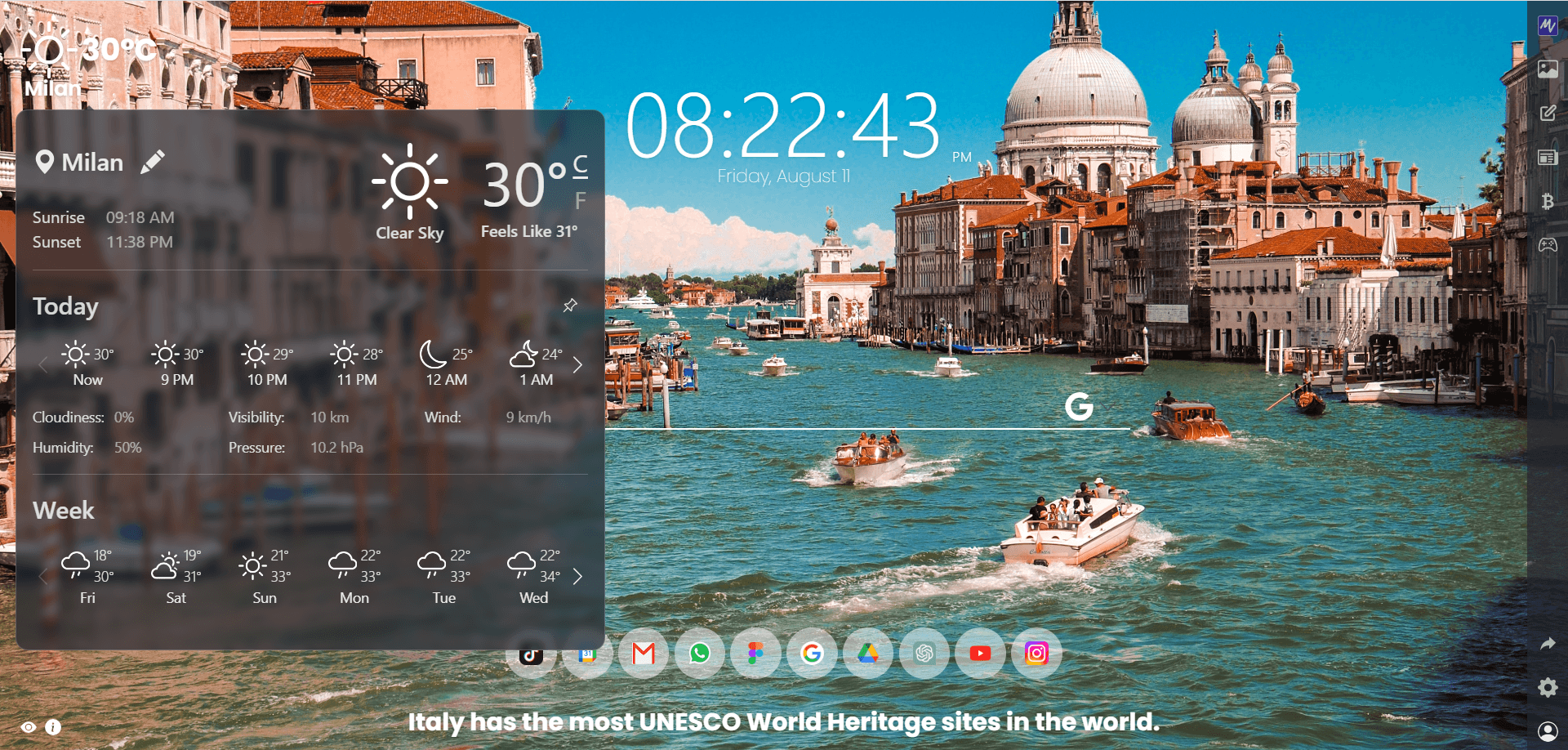 Welcome to Italy - a country renowned for its rich history, exquisite cuisine, and breathtaking landscapes. Enhance your Italian journey with the MeaVana Chrome extension, providing delightful daily facts and mesmerizing wallpapers, transforming each new tab into a captivating Italian vista.
Immerse in Florence's Artistic Grandeur
Uffizi Gallery: Viewing the world-class art collection at the Uffizi Gallery is one of the top things to do in Florence, Italy.
Cathedral of Santa Maria del Fiore: Stand in awe of the iconic Duomo, the city's skyline's crown jewel.
Experience Naples' Authentic Vibes
Pompeii and Herculaneum: A short trip from Naples takes you to these cities, frozen in time by the Vesuvius eruption. Visiting these archaeological sites is undoubtedly one of the best things to do in Naples, Italy.
Piazza del Plebiscito: Experience the city's heart by strolling in this bustling square.
Walk Through Rome's Living History
Colosseum: A trip to Rome is incomplete without seeing the Colosseum, the eternal symbol of Rome's ancient grandeur.
Vatican City: Witness the grand St. Peter's Basilica and marvel at the masterpieces in the Vatican Museums.
Discover Venice's Unique Beauty
Gondola Ride: A gondola ride through Venice's canals is a quintessential experience in Venice, Italy.
Saint Mark's Basilica: Explore this stunning cathedral, a beautiful symbol of Venetian wealth and power.
Unearth Milan's Stylish Facets
Duomo di Milano: Climbing this breathtaking cathedral offers a panoramic view of the city, and it's one of the fun things to do in Milan, Italy.
Galleria Vittorio Emanuele II: Shop at one of the world's oldest shopping malls, a landmark for luxury.
Italy's diverse cities, picturesque countryside, and delicious culinary delights promise an enriching journey. The MeaVana Chrome extension enhances this journey by offering insightful daily facts and beautiful wallpapers about Italy. Try it for a daily dose of Italy's charm right on your new tab.